Hey there, it's the Myth Master back at ya with another interview. This time we have with us writer and artist, Johnathan Fesmire. This young man has four books under his belt (so far) and has been doing some amazing things with CG and 3D art. So let's welcome Jonathan to the interview booth.
M.M.: Jonathan, you are an extremely busy individual with all of your many projects. I would like to start with your writing career, however, and ask you to give us some background into your novels. Can you tell us what books are now available and perhaps give some information about those stories?
J.F.: I have three novels and a short story anthology out. The titles are "Children of Rhatlan," "Tamshi's Imp," and "Amber in the Over World" for the novels, and "Seeds of Vision" for the anthology.
The first two novels take place in a world of my invention called Taibril. They're both stand-alone novels, though I recommend reading "Children of Rhatlan" first. Many of the stories in "Seeds of Vision" also take place on Taibril. The main society loosely resembles Renaissance England, but of course Taibril has its own gods, powerful magic, and some unique conditions.
"Amber in the Over World" is my first young adult novel. In it, I started playing with a new collection of worlds linked to our own world.
M.M.: How did you come to write in the 'Young Adult' field?
J.F.: First, I love young adult fantasy novels. They're what got me into the genre, after all, when I was a young adult. Writing one seemed like the thing to do! I also wanted to write a special book for my daughter, who I used to read to all the time when she was little.
M.M.: What is your favorite genre to write in and why?
J.F.: Fantasy, all the way. I love magic in all its forms, from grandiose spells to stage illusions. I firmly believe that our real lives are magical as well. Magic in fantasy is more flashy than what you get in real life though, which tends to be subtle and amazing. I think that sense of wonder, and feeling that there's something more to life than what we see on the surface, drew me to fantasy early on, and now, I'm hooked.
M.M.: What inspires you to write your stories?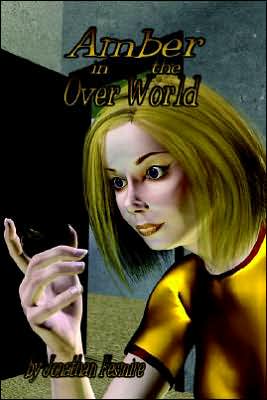 J.F.: I need to have a general story idea that resonates with me. Sometimes it starts with the characters, and sometimes with a situational idea. My novels, especially, have fairly strong themes. For instance, "Children of Rhatlan" is about dealing with prejudice (in part), "Tamshi's Imp" is about the nature of faith, and "Amber in the Over World" is about the immense power and importance of creativity.
M.M.: Stock question, here: What writers have influenced your own style or method of writing and why?
J.F.: I actually took a writing correspondence course with Lee Killough, so she's had a lasting influence on my style. Stephen King is another, both because of his intriguing characters and plots, and because of his writing style. He has a tendency to be elegant and conversational at once and very readable.
Some of the long-winded writers out there have influenced me in the opposite way. In other words, because long-windedness drives me crazy, I tend to give the important details and get on with the story.
M.M.: I understand you are working on yet another novel. What can you tell us about this book?
J.F.: Yes, I'm writing "Women of Moreri," the sequel to "Children of Rhatlan." This book has been a long time in coming! I started it shortly after I first wrote "Children of Rhatlan," ditched that, started again a few years later, and then set that aside to write "Amber in the Over World." I started yet another book, then decided it was time to take out what I had written of "Women of Moreri" and to finish the book. I'm rewriting what I had already written, and when I'm done with that, will write the end.
This will be my first trilogy, as I plan a sequel to "Women of Moreri," and already have some good ideas for what I want in it. By the way, anyone who reads "Children of Rhatlan" should be able to guess what the third book will be called. I created the main characters back in 1994 or 1995, so they've been with me a long time.
M.M.: All of that sounds like enough to keep anyone busy, but you are also an accomplished artist in your spare time. How did art become a part of your life?
J.F.: Thank you! It's funny how that came about. I've actually always loved fantasy art. However, I never had much confidence in my drawing skills, though that may change! I plan to improve those. Anyway, I bought Poser 4, learned the basics, and started creating my first digital artwork. It was wonderful, because I thought, "With this, I can finally do art that I'll be happy with."
That was back in 2002, and I've improved a lot over the last four years. I look back at my earlier work and realize how much I've learned. Now, I'm on to Poser 6, and I also use Bryce 5.5. I call myself a "Dazaholic," because I love the various figures, props, and so on put out by Daz3D and use them extensively. I also design my own props pretty often now.
M.M.: And hasn't your art appeared on a number of book covers?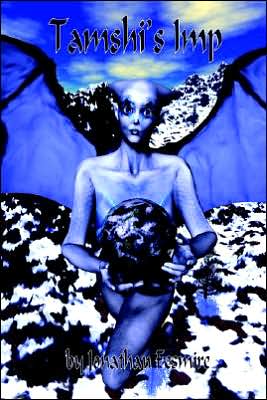 J.F.: It sure has! It's on a couple of my own, of course: the covers for "Tamshi's Imp" and "Amber in the Over World," and on various art and journal books I've published. Besides my own covers though, I've done a lot for Venus Press, an online romance and erotica publisher. I also did the covers for Joseph Yakel's novel "The Legend of Juggin Joe," and Andrea Dean Van Scoyoc's "A Man of Two Worlds."
M.M.: I hear you are also working with something relatively new to the art world--3D art. What can you tell us about this form of art?
J.F.: Well, I'm partial to it! It was the doorway that really brought graphic art into my creative experience. Maybe explaining the basics of how I set up a scene will help. Keep in mind, this is really basic and there's usually a lot more to doing an image.
I get an idea in my head of the image I want to create. I then bring in the figures-usually 3D models of humans-who will be in the picture. I decide on their clothing and put it on them. I do all sorts of morphs to their faces and bodies to get them to look just how I want.
Then, I pose the figures, and set up the scene with props. These might include a house, a tree, wands, swords, or really anything you can think of. I decide on--and often create from scratch--the textures for everything in the scene.
This is all set up in a virtual 3D environment on the computer. So a part of this sort of at is like photography. I get the camera angle I want, set up the lighting, and then render the image. Rendering is the process by which the computer calculates how the lighting, textures, and so on will interact and look.
Once the picture is rendered, it often needs "postwork." I do most of this in Paint Shop Pro, which I've been using for ten years or more and like quite a lot. I may correct things that look "weird," such as smoothing joints, or even add more to the scene this way.
If you talk with other CG artists, many of them will describe the same set of procedures.
M.M.: Aside from book covers and pictures, I believe you are also designing your own Tarot cards. How is that project coming?
J.F.: I sure am! It's coming along great. I love the concept (which, I'm sorry, I'm not divulging yet!), and have done twelve or thirteen cards so far. US Games wants to include it in their next edition of The Encyclopedia of Tarot. What I can tell you is--big surprise!--it's all CG, done primarily in Poser and Bryce.
M.M.: Why design your own Tarot deck, when there are so many varied decks already available?
J.F.: I've studied the Tarot for over twenty years, and I have a ton of decks. Still, none of them really resonates just right for me. There are a couple I like a lot. One is the Universal Waite, which is the Rider-Waite deck colored by Mary Hanson-Roberts. My favorite published deck is Halloween Tarot by Kipling West. That deck works wonderfully for me. When the deck I'm designing is in print though, I'll use it the most.
M.M.: You are also a contributing artist for another web site. What can you tell us about that?
J.F.: You're thinking of Grey School of Wizardry. This is a real wizardry school, established by Oberon Zell-Ravenheart, who is also headmaster. There are quite a few prominent members of the magickal community teaching there. I don't teach for Grey School, but I am the staff artist. That's been a lot of fun, doing images for classes, designing CG versions of the heralds, and more.
I also write book reviews for SF Site, and the magazines PanGaia and newWitch.
M.M.: Well, if you actually have any spare time, what do you enjoy doing when you are not involved with all of your work? How do you relax?
J.F.: Believe it or not, I do have spare time! The reason is that I write and do art full time. My wife is wonderful. She has a great job, and I watch the kids when they're home from school.
There are a few video games I enjoy. I don't play them a lot, but now and then they're fun. Currently I'm playing Star Wars: Empire at War, and sometimes I play Toontown Online, mostly with the kids, since we have two accounts.
My wife and I enjoy a number of television shows, including House, Bones, Battlestar Galactica, The Dead Zone, Ghost Hunters, Mythbusters, and Eureka. Naturally, we're also fans of all Joss Whedon's shows and have them on DVD.
Instead of watching the news proper, I watch The Daily Show and The Colbert Report.
M.M.: And where might our readers be able to view more of your art work and glean some information about your books and other projects?
J.F.: The best place to start is my MySpace page, at myspace.com/jonathanfesmire There, I have links to my Web site, to my DeviantArt gallery, to previews of my books, and a lot more. I post to my blog there at least once a week, keeping people informed on my projects. For instance, when I finish a book chapter, I announce it there.
M.M.: Is there anything else coming from you in the near future we should be on the lookout for?
J.F.: I plan to have "Women of Moreri" out by next May! Meanwhile, I have the other novels and the anthology out, so there's plenty for people to get started with.
M.M.: Jonathan, we really want to thank you for taking time away from your busy schedule to talk with us, today. Is there anything we didn't cover you would like to share with our readers before we call it a wrap?
J.F.: Sure! I meant to talk about this somewhere above, but nowhere seemed to be just the right place.
One of the areas I got into, in 3D art, was anaglyphs. I haven't done many of these recently, but for awhile there I did a bunch. Anaglyphs are those pictures you look at with the red/blue 3D glasses, to get the wonderful depth effect. CG art lends itself perfectly to this. The reason is you create a scene that the computer thinks of as actually three dimensional. You then render it from the main camera, shift the camera slightly to the side, and render a second image. The artist can then put these together as an anaglyph, and voila, a 3D image with wonderful depth.
I've published two books with my 3D art. One is erotic--definitely for people 18 and up. It's called "3-Rotica," and you can find it if you get a free account on Lulu, sign up to be able to view mature content, and go to my Lulu storefront page, at www.lulu.com/jonathanfesmire. (Actually, you can find it on Amazon, too!) The other book of 3D art I've published is called "Fantasy in 3D," and I would give it a PG rating.
I also want to thank you for the interview!
M.M.: It was our pleasure. All right, then, thanks again for sharing with us and we wish you luck and success with all of your projects.
Okay, gang, that is a 'Wrap' for this month. We want to once again thank Jonathan Fesmire and R.H. Stavis for taking the time to visit with us and we wish much success to both of them. 'Til next time, it's the Myth Master, signing off.